Why use a swingers chat room?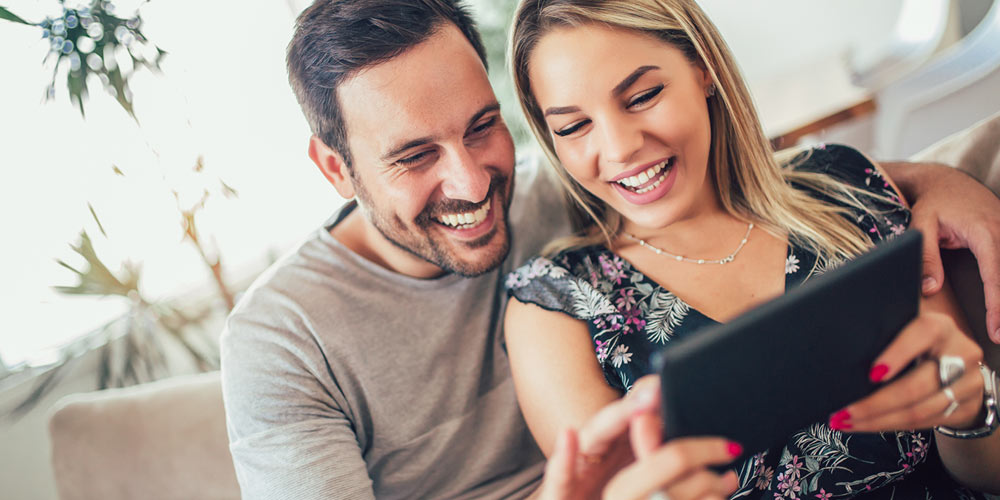 A swingers chat room is a fantastic way for you and your partner to meet other couples in the swing lifestyle. For many couples swinging is not just about the sex; in fact friendship is often listed as one of the things couples are looking for. Yes the excitement of sex with new people is there but it's also about connecting with new like-minded friends outside of your usual social circle. It can be hard to determine if there is a connection from a profile, you really need to chat first because it's time consuming arranging coffee meets or swing club dates or babysitters only to find out there's no spark.
Also, swingers have had to adapt during the covid situation and many have moved to virtual online interactions, webcam sex or are using this time to fill their social swing calendar for when life returns to normal. And unlike a swingers party or swingers club night where you might only chat to a few couples, in swingers chat rooms you can chat to everyone in the room. Also couples are often more comfortable using a safe, online platform for that initial "get to know you" chat without worrying about sharing private information until you're ready to arrange a meet. If you are happy to travel for meets you can chat online to swingers in other cities for those sexy weekends away or swingers travel plans. And it allows you to avoid those awkward "thanks but we're not interested" conversations face to face.
Swingers chat for newcomer couples
Swingers chat is also ideal for couples new to swinging! We'd be lying if going to your first swingers event wasn't a daunting experience. Exciting yes! But approaching another couple or being approached and making polite conversation and not knowing what your next move should be can be stressful. Compare that to entering a swinger chat room where you can socialize and chat without the added pressure of a face to face meet.
Being able to chat with other couples from the comfort of your own home is not only appealing to avoid those nervous first meets, but it's a way to talk to dozens of other couples and learn more about the lifestyle before you dip your toes into the swinging pool. You can relax with your partner and a glass of wine and indulge in some cheeky online banter or even watch other swinger couples on webcam.
So if you're a newcomer couple not quite ready to strip down and swap or you're more comfortable chatting online first to see if there's a connection, our swingers chat room is the perfect solution.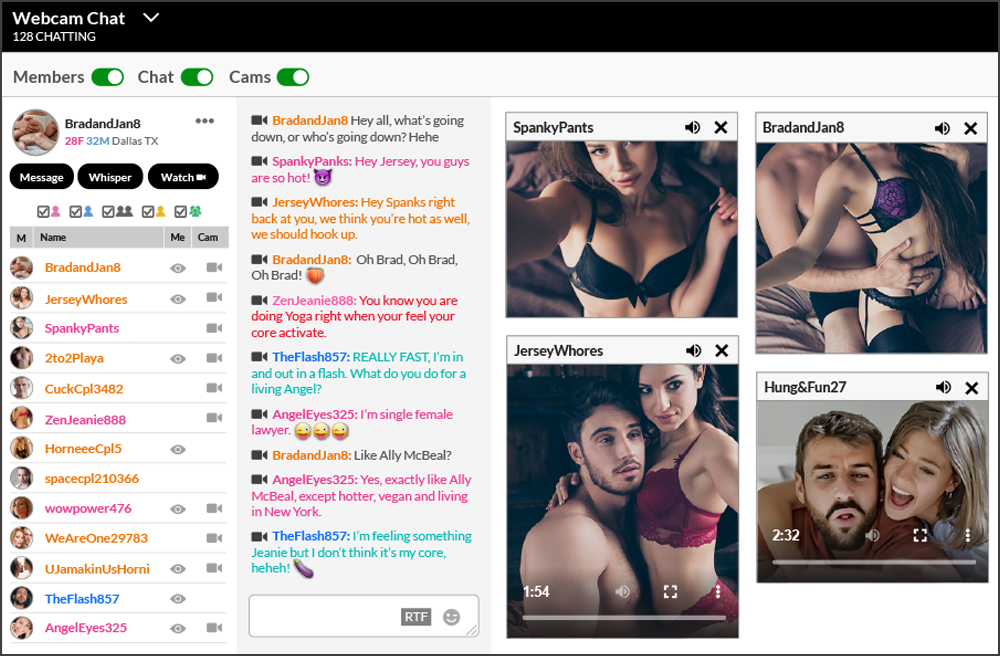 Swingers Webcam
Our swingers chat room also gives you the option to video chat. It's definitely the place to be seen. You can enable your webcam at any time or if you prefer to watch then sit back and be a voyeur and watch other members chatting or being naughty on webcam.
And of course for more seasoned swingers this means being able to see the couple behind the profile to ensure you feel a connection. Let's be honest, we all post our best photos or may not want to show our faces so live webcam can help you feel more at ease and ensure there is a connection or a level of attraction before taking the next step.
How can you chat privately on Swingles?
You have two ways to start a private chat on Swingles:
In the chat room you can send another member currently in chat a whisper so you can have a private chat, or
If you prefer a more private interaction Premium members can use one of their daily message credits to send a message using our instant Messenger system. Standard members can reply to messages they receive. Gold and Platinum members can also enable video chat from within Messenger.
Hook up with swinging couples online in swingers chat
Our chat room has been designed to give participants the best possible experience. You'll find the video chat bright and engaging and if you're new to chat you'll find the interface easy to use.
Free swingers chat for Standard members every evening
Premium members have 24/7 chat room access
You can video chat on all devices, including your smartphone
Standard members can view 3 live webcams, Premium members can view 4 live cams
Switch between text chat and viewing cams easily
Emoji options available
Saved preferences for themes and display
Member types are colour coded for easy reference
Whisper/IM privately with other members in chat
Filter chat participant list and see who is in chat
See who is on webcam and who is watching you
There are no time limits other than the designated free chat period for Standard members
No advertisements or annoying pop-ups
So, don't miss out on all the fun of sexy online interactions in our swingers chat room. Join Swingles today and start chatting with swinging couples.